RELIABLE METHODS
FOR OPTIMISED STRATEGIC PLANS
MediTech Access provides a wide range of Market Access and HEOR support solutions for France, Belgium, Switzerland and more generally Europe, to guide you in the best early-funding or reimbursement strategies for your healthcare solution, whether it is a medical device, a diagnostic, a connected software or a drug. We propose tailored services, from face-to-face strategic consultations to complete feasibility reports. We can even support you to put in place a distribution solution for your technology in your country.
ENVIRONMENT SCAN
Identification of the state of the art
Identification of local or national country-specific market access & health economic issues.
Systematic literature review, including published and on-going clinical trials, practice guidelines, health economic evidence & real-life studies.
Thorough understanding of the competitive landscape, including the identification of the reimbursable therapeutic and diagnostic alternatives.
Coding analysis, with screening & analysis of national health information databases, based on our hands-on knowledge & experience of country-specific healthcare systems (DRGs, nomenclatures, global budgets, funding modalities, in- & outpatient).
Continuous monitoring of the market access and regulatory environment, targeted to our client's needs, during projects.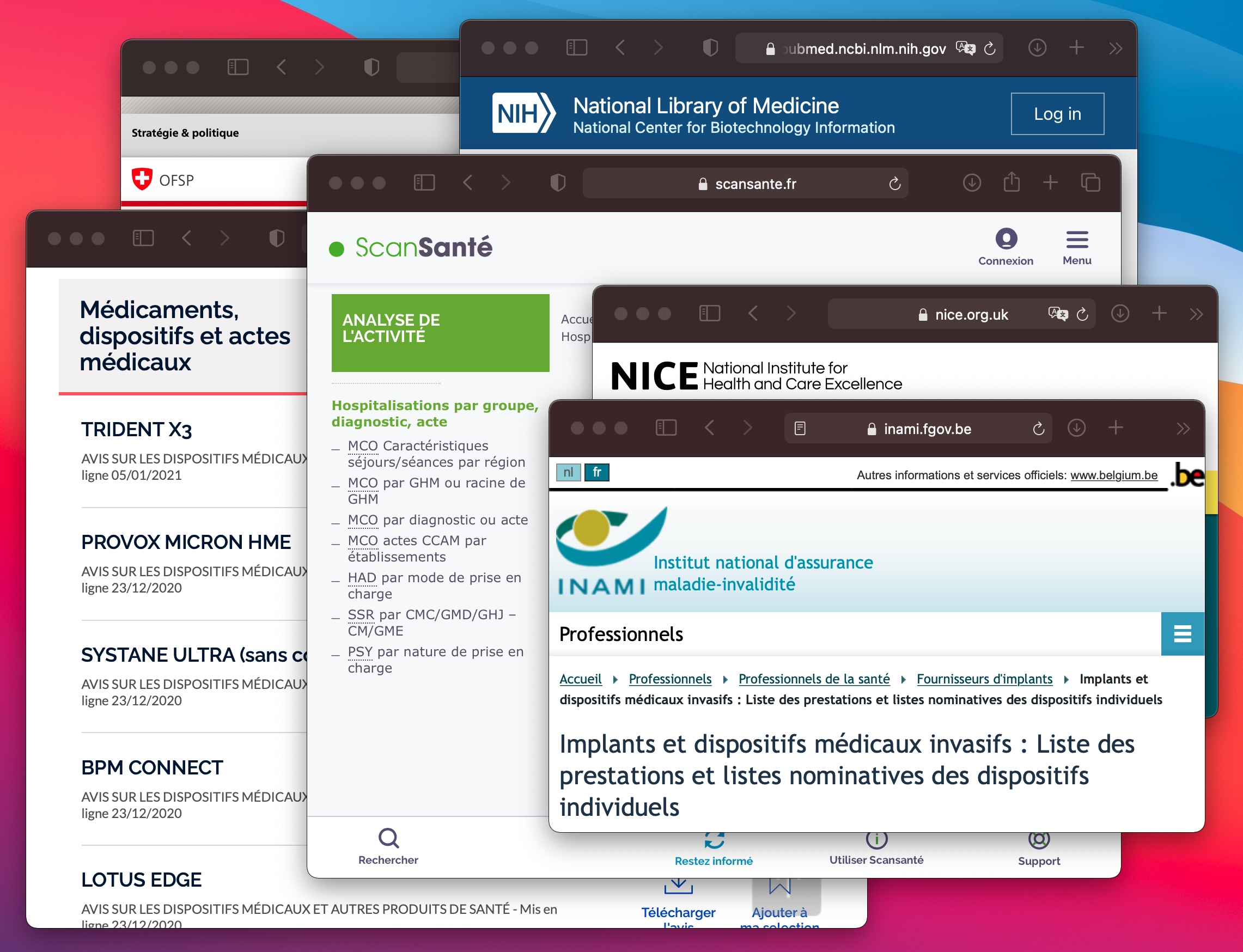 MARKET ACCESS INVESTIGATION
Towards the creation of opportunities
Estimation of the potential place of the product in the healthcare strategy, by the identification of unmet needs and associated target populations, based on country-specific practice guidelines and market characteristics.
Identification of relevant early-funding and reimbursement pathways for each targeted country, from the national to the local level.
Validation of the eligibility of the healthcare solution to each pathway, with a particular focus on clinical, economic and organisational issues.
Highlighting of the specific advantages and drawbacks of each eligible market access pathway, in the short and long terms.
Identification of potential reimbursement issues specific to some device categories (ex. for safety concerns).
Definition of the optimal market access pathways and associated clinical and economic arguments (expected impact on efficacy, safety, quality of life, cost-effectiveness & healthcare organisation).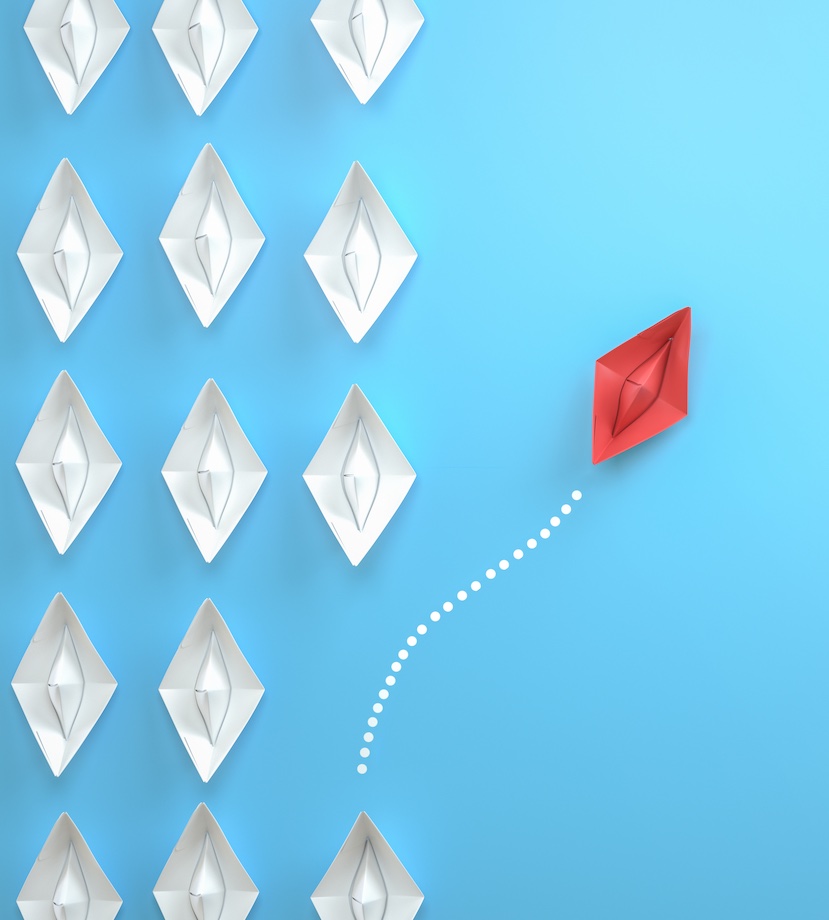 RISK ASSESSMENT & GAP ANALYSIS
Meet the requirements, ensure your success
Accurate estimation of the available level of evidence, thanks to a deep knowledge of the statistical methodology of clinical and medico-economic studies.
Validation of the transposability of evidence to clinical practice in each targeted country.
Assessment of the diffusion and adoption of the product by healthcare professionals.
Evidence gap analysis with regards to clinical & economic expectation of healthcare authorities.
Identification of all missing clinical & economic data that would ensure early-funding or reimbursement with a high chance of success and a sufficient tariff recognition.
Support on evidence generation, depending on clinical & economic requirements.
Risk assessment: identification of the potential country-specific traps to avoid, and the value drivers that would accelerate market adoption (ex. health policies, market trends, willingness to pay).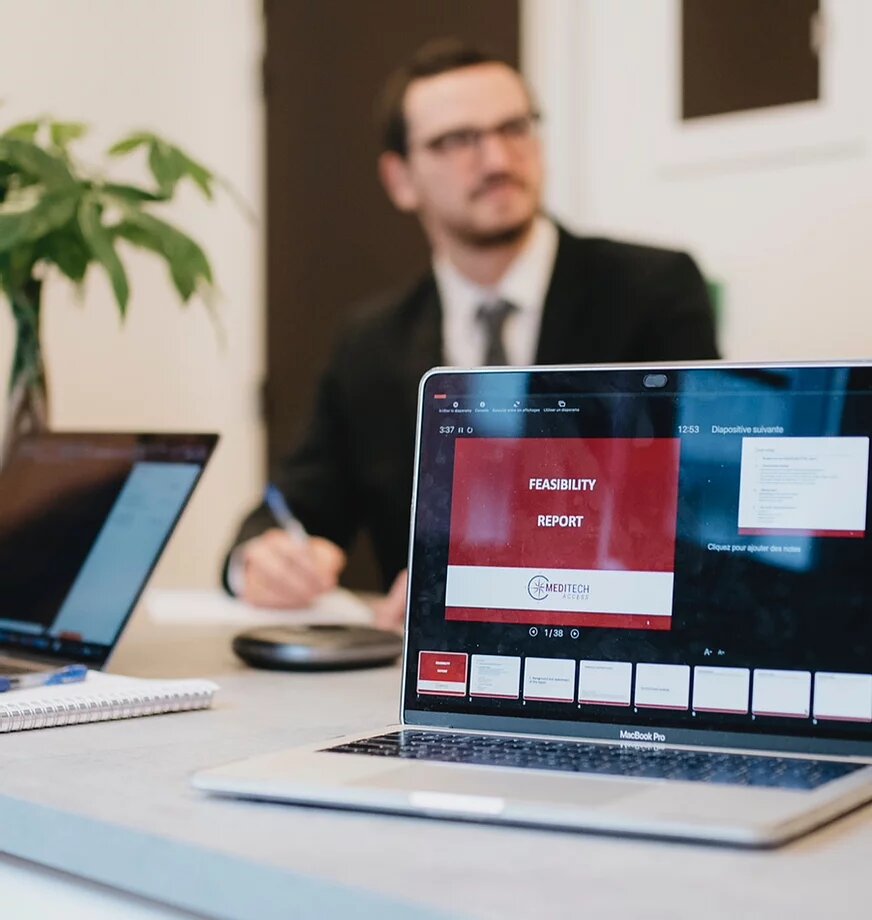 ACTION PLAN
Take advantage of a high-level feasibility study
Tailored services, from simple strategic consultations with our clients to complete feasibility reports.
European mapping, with prioritisation of the most relevant countries for the entry of your solution into the market.
Reminder of the potential preliminary regulatory steps for each targeted country.
Summary of the market access strategy to focus on, including the indications to target for a future reimbursement and the associated clinical and economic arguments.
Description and rationale of all recommended actions (contact plan, value dossiers, methodological support, negotiations, training) with the corresponding process, timelines and budget estimations.
Full support on the execution of the market access plan, including the set-up and follow-up of clinical and medico-economic projects for early funding programmes with evidence generation (ex. organisation of strategic meetings with health authorities and KOLs, support on the writing of the study protocol, identification of the most relevant clinical centers).
We can even advise and help you set up put a direct distribution solution for your technology and build the corresponding sales teams.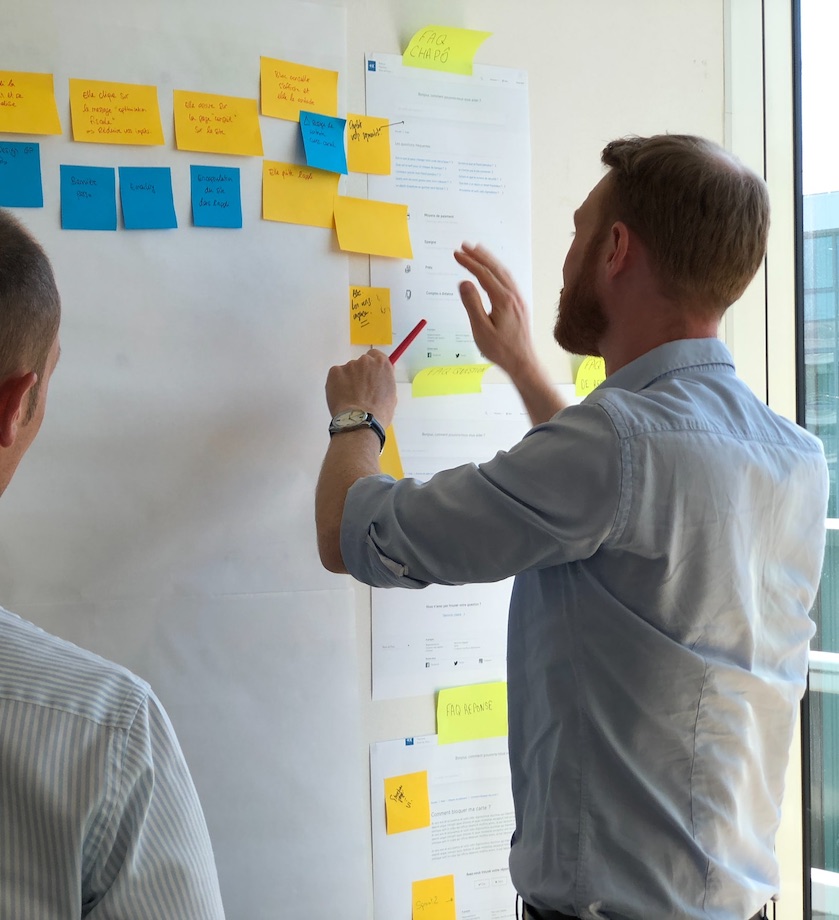 WE DO NOT END THERE.
SEE HOW WE CAN SUPPORT YOU.